Each with their own style and charm, our three on-site yurts offer guests a true feeling of getting away from it all. Fitted with a central log fire, you can enjoy some back to basics cooking and be assured you'll stay toasty warm. All of the yurts have been fully kitted out with everything you'll need, so all you'll need to bring is your sense of adventure.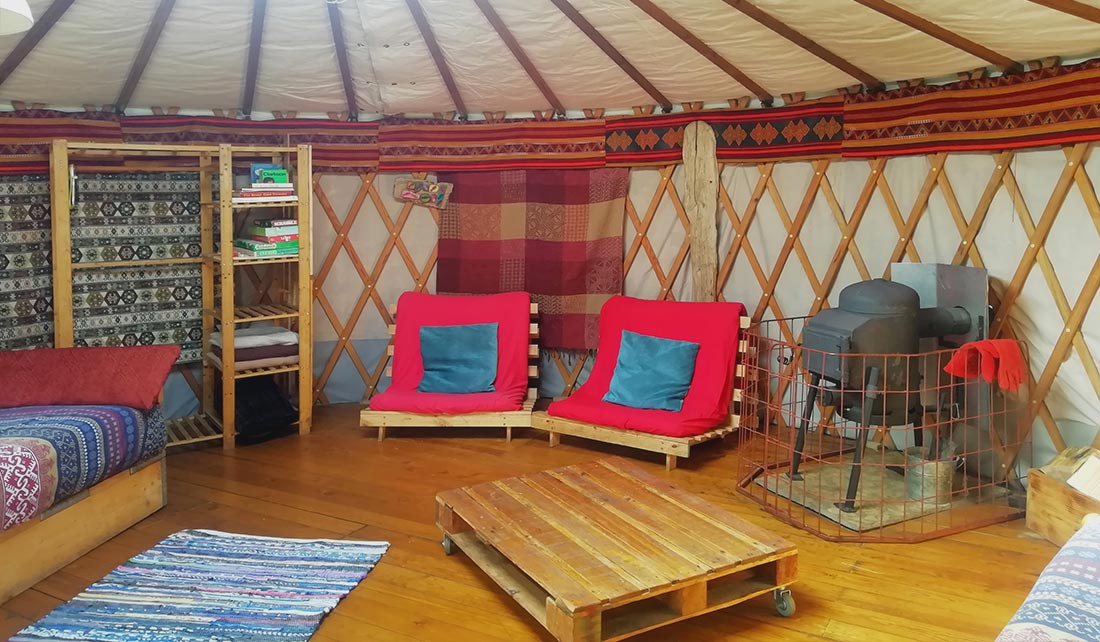 | | | |
| --- | --- | --- |
| | | |
| | | |
| --- | --- | --- |
| | | |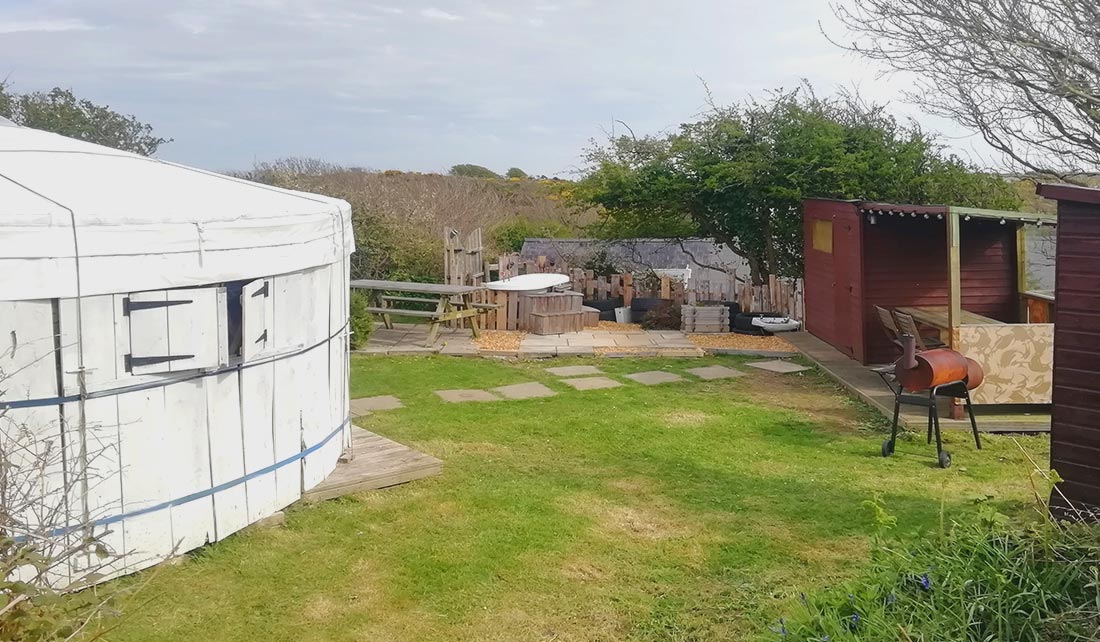 | | | |
| --- | --- | --- |
| | | |
| | | |
| --- | --- | --- |
| | | |
"such a great experience!"
We really enjoyed our short but fabulous stay in the Seren yurt. It comfortably fit four people, was situated in a nice corner of the campsite, and was superbly kitted out. We especially appreciated the lanterns and the ottoman chest. We went for a short walk around the beach and had an al fresco dinner which we prepared using the gas stove. It was also really great to have the skylight in the yurt roof for light and for stars It was a real shame that we couldn't stay longer...
Thank you very much for such a great experience!
Reviewed by Lisa M - 16th September 2014
"We'd come again"
Friendly and efficient service. The yurt was well-equipped and stayed warm with the log burner. The welcome basket with tea, cake etc was a lovely touch. We'd come again.
Reviewed by guest from Clitheroe - 15th May 2017
"Showers were warm and good"
Really good accommodation: clean, warm, dry. Showers were warm and good. What more do you need?
Reviewed by guest from West Kirby - 13th May 2017
"cozy and well furnished yurt"
Everything was great for our two night stay in Llyn Yurt before Easter. It was our first time doing this so we didn't know what to expect. From booking to checking out everyone was friendly and helpful, nothing is too much trouble for the staff. Very clean, cozy and well furnished yurt, all you need but nothing fussy. Would definitely go again
Reviewed by Unknown - 15th April 2017
"fantastic location"
Very friendly staff, fantastic location and atmosphere in bar/bistro great. Very accommodating for children. Shower blocks for yurts, cabins excellent. Short walk to beach.
Reviewed by guest from St Asaph - 20th September 2016
"above and beyond"
The yurts were beautiful and so well kept. The staff were all absolutely lovely and go above and beyond to help whenever they can. They even attended to my request of a homemade cake and was on the table when we arrived.
Reviewed by guest from London - 19th August 2016
"wish could have stayed for longer"
Absolutely loved the yurt, wish could have stayed for longer. Complimentary bits were very thoughtful and use of private shower pods were great. Will definitely be coming again. Thank you.
Reviewed by guest from Stoke On Trent - 17th August 2016
"Loved the yurt experience"
Had a fabulous time, would definitely come back again. Loved the yurt experience
Reviewed by guest from Macclesfield - 3rd August 2016
"just perfect"
What a fantastic break we had, thank you Anglesey outdoors! Peaceful surroundings close to walks & not forgetting the little beach down the road. Watching the stars from our yurt, just perfect. We'll be back again next month.
Reviewed by guest from Liverpool - 2nd June 2016
"beautiful campsite in great location"
We had a lovely stay - safe, friendly, beautiful campsite in great location. Loved the yurt, and kids had a fab time.
Reviewed by guest from Liverpool - 2nd June 2016
"absolutely amazing"
The yurt was absolutely amazing. Will definitely be booking to stay here again
Reviewed by guest from Buckley - 16th May 2016
(Star in Welsh) is fully-equipped for 6 people, fitted with 2 x single beds, 2 x single futons and 1 x double. This Yurt benefits from its own private secluded clearing accompanied by a separate kitchen shed, alfresco dining area and wood-fired hot tub. Furthermore, this is the only yurt onsite with mains electricity!
From £150 per night
(Pond in Welsh) is fully-equipped for 4 people, fitted with 2 x single beds, 2 x single futons.
From £95 per night
(Beach) is fully-equipped for 2 people, fitted with 1 x double bed.
From £65 per night

Accommodation
(applies to every yurt)
Wooden Floor
Table and chairs
Wood burning stove and a complimentary bag of logs and kindling is supplied, extra can be purchased on-site from The Paddlers Return
Double gas hob and grill
Washing up bowl, cloths and tea towel
Wardrobe and storage
Cooking equipment including: cooking pans / utensils also inc; scissors, cork screw and tin opener
Water container inside
Fire extinguisher / fire blanket / bucket of sand
Carbon Monoxide Detector
Lighting: lanterns, tea lights, solar lights
Books, games, playing cards
Welcome information pack with useful phone numbers and tips for yurt life
Yurt set on decking with BBQ, picnic bench
Each yurt has own private, eco-friendly composting loo
Check Booking Info details below for more info and additional on-site facilities
(It is possible to accomodate more people in each Yurt, but they are not fully-equipped for this)
BOOKING INFO - OPEN / CLOSE
All prices include VAT at 20%.
Over Bank Holidays a minimum 3 night stay applies.
Low Season: 1st October to 31st March exc Bank Holidays. High Season: 1st April to 30th September inc Bank Holidays.
Check in from 4:00pm (Just let us know if you need to be much earlier or later).
Check out is by 10:30am.
Hot showers.
Main flush toilets.
Covered washing area.
Free WiFi (*Subject to strangth/distance from Main Centre). WiFi is also available in the on-site Bar & Bistro, The Paddlers Return.
Drying Room: With dehumidifier, mangle and ample hanging space. Washing machine. Fridge / freezer for general use.
The Paddlers Return on site Bar & Bistro (open every evening during High Season offering good food and a warm welcoming atmosphere).
Gear Store: Locked storage area for bikes, surfboards, etc. (Access 24 hours via door code).
Overnight electric car charging point (Type 2, 7 kW), FREE use to all overnight guests.
Recycling facility.
Composting facility.
Bedding (either sleeping bags or duvets).
Towels and toiletries.
Extra lighting for inside and torches.
Beach towels.
Wellington boots and wet weather gear if it rains.
Tupperware for storing items like bread, butter and food.
Cool box and ice blocks.
You will need to bring your own charcoal for the BBQ.
DURING YOUR STAY...
Why not join us on an Adventure!
View all Activity Adventures

Check accommodation availability for the (Yurts and other glamping units) below or contact us today for more info.
Send an e-mail

EASY ONLINE BOOKING