From £95 per night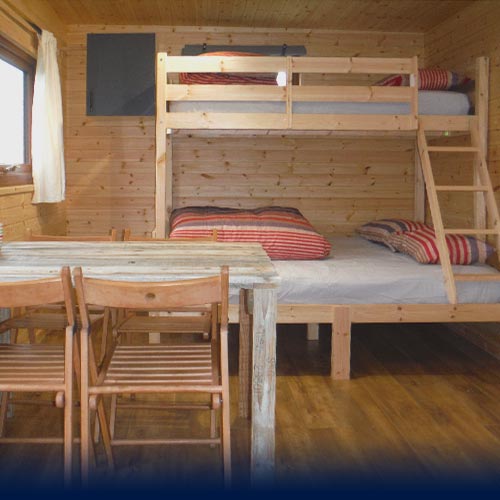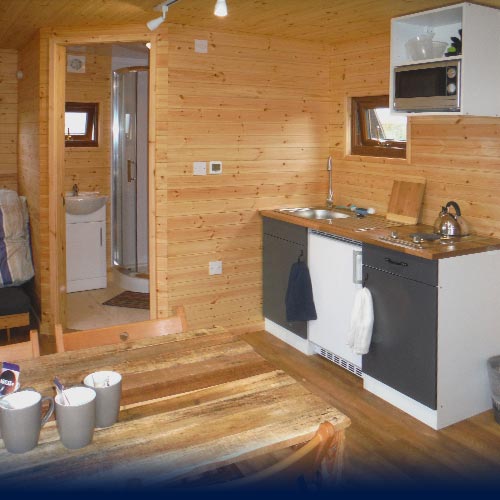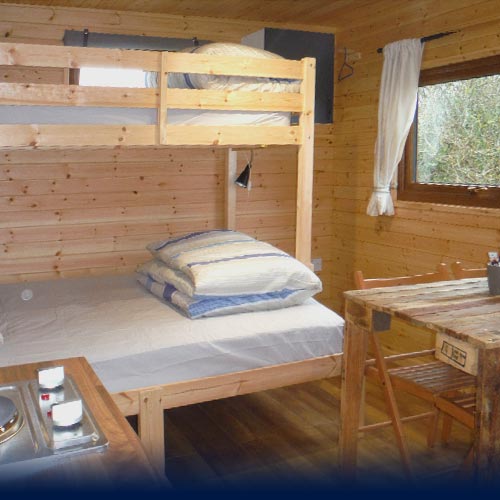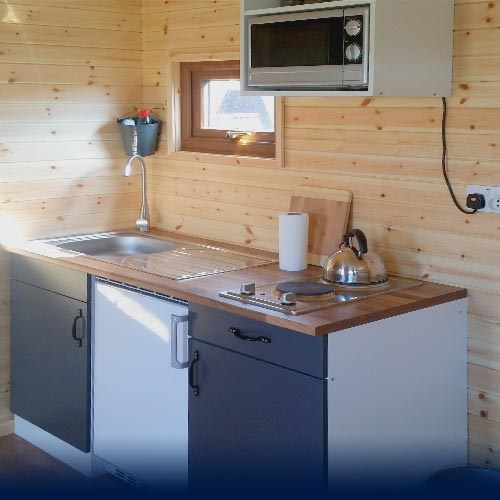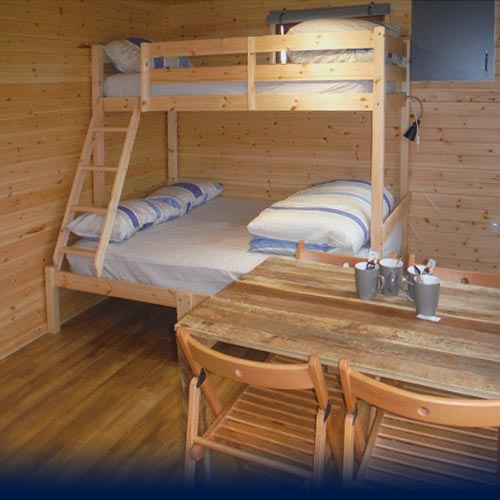 Our Eco Dens are a great first step into the world of Glamping, with Heating supplied by the onsite Biomass and electricity created by our onsite Solar Farm. After a day of exploring all that Anglesey Outdoors has to offer, you and up to four people can step into your very own cosy den, complete with en-suite shower and toilet, small kitchenette and comfortable beds, all designed to ensure your evenings are as easy and relaxing as possible. You are on holiday, after all.
Click for Eco Den Facilities
5 out of 5
"I would recommend this"
There is always a friendly welcome and that feeling of contentment upon returning. This time was our first time in an Eco Cabin (compass). Well positioned with great views over the countryside. Inside the cabins are well planned with a kitchenette, ensuite shower and toilet, table and chairs for 4, a double bed with single bunk above and a single futon. Wi Fi had a strong signal in the cabin which was excellent. I would recommend this to both couples and families and will definitely return. Thank you!
Reviewed by Unknown - 10th October 2016
5 out of 5
"a great base"
The Eco den was a great base for us with young kids. Paddlers rest was a lovely friendly bar on site. Great beach just ten minute walk away or 2 minute drive.
Reviewed by guest from Spondon - 7th August 2016
5 out of 5
"the comfort you need"
Very friendly place, everyone working co-operatively and nothing too much trouble. If you are joining in with the activities, the Eco Cabin will give you the comfort you need after the days exertions.
Reviewed by guest from Manchester - 6th August 2016
5 out of 5
"Excellent accommodation"
Penny, Stan and the rest of the team were absolutely fantastic. The care from the staff was first class. Excellent accommodation. A really relaxing week. I can't speak highly enough about them.
Reviewed by Unknown - 7th June 2016
5 out of 5
"one of the best things I've done"
Although we only stayed for one night I have to stay it has to be one of the best things I've done in a while :) the staff were amazing and really helpful and friendly... nothing was to much trouble. I would 100% recommend this place which I already have and I will 100% be coming again :)
Reviewed by guest from Prestatyn - 25th April 2016
5 out of 5
"super location"
A great place for a quiet get away. Good facilities in a super location.
Reviewed by guest from Huddersfield - 29th June 2015
Eco Den Facilities
1 double bed with single bunk and 1 futon bed/chair.
All bedding supplied.
Kitchenette - with ring hob, microwave, fridge with ice box, sink.
Ensuite shower and WC.
Underfloor heating.
Table and 4 chairs.
All crockery and cutlery for 4 people.
Fire Extinguisher/Fire Blanket/ Smoke Detector.
Interior and Exterior Lights.
Use of all Anglesey Outdoors Facilities.
Free wiFi (receivable)*.
Check Booking Info details below for more info and additional on-site facilities.
Our Eco Dens are available from just one night stays or you can stay longer to explore more.
BOOKING INFO - OPEN / CLOSE
All prices include VAT at 20%.
Over Bank Holidays a minimum 3 night stay applies.
Low Season: 1st October to 31st March exc Bank Holidays. High Season: 1st April to 30th September inc Bank Holidays.
Check in from 4:00pm (Just let us know if you need to be much earlier or later).
Check out is by 10:30am
Hot showers.
Main flush toilets.
Covered washing area.
Free WiFi (*Subject to strangth/distance from Main Centre). WiFi is also available in the on-site Bar & Bistro, The Paddlers Return.
Drying Room: With dehumidifier, mangle and ample hanging space. Washing machine. Fridge / freezer for general use.
The Paddlers Return on site Bar & Bistro (open every evening during High Season offering good food and a warm welcoming atmosphere).
Gear Store: Locked storage area for bikes, surfboards, etc. (Access 24 hours via Door Code).
Overnight electric car charging point (Type 2, 7 kW), FREE use to all overnight guests.
Recycling facility.
Composting facility.
Towels and toiletries.
Beach towels.
Wellington boots and wet weather gear if it rains.
DURING YOUR STAY...
Why not join us on an Adventure!
View all Activity Adventures

Check accommodation availability for the (Eco Dens and other glamping units) below or contact us today for more info.
Send an e-mail

EASY ONLINE BOOKING